Today, the final fundraising threshold was met to be able to erect a statue to the US Colored Troops on the Public Square in downtown Frankin. This would not have happened without the hard work of many people, especially those involved in the Fuller Story project.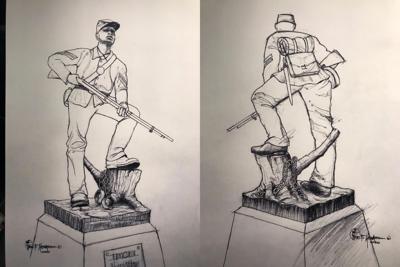 The statue will be a full-scale bronze representation of a USCT soldier sculpted by Tennessee native Joe F. Howard. Design work and sculpting are already underway. Plans are to unveil the statue in early 2021.


I wanted to take this moment to describe exactly who this statue is depicting - to put a human face on it. The veterans represented by the statue were born in Williamson County, they lived here, married here, enlisted here, served here, raised families here, died here and are buried here. They are our native sons. Many of them left widows and orphans and bereft parents behind. So far, I have identified 59 Black soldiers from Williamson County who died in service to our country during the Civil War. At least ten of these men died of wounds received in the Battle of Nashville. Many of their remains lie in unmarked or unknown graves. When Franklin's Confederate monument was erected in 1899 - 35 years after the Civil War - many of the surviving local USCT soldiers were still living in Williamson County. Not only was their service not honored, but it was also in many ways a liability. It is beyond time - these local men all deserve public recognition for their service to us and to our nation.
For some context, you should know that during the Civil War, approximately 180,000 African American men joined the federal forces in the USCT to fight. Tennessee sent the third-highest number of men of any state - more than 20,000.



Tennessee sent the third-largest number of men to join the USCT during the Civil War.
About 20,000 black men from Tennessee joined USCT regiments.


I believe that the 300 men from Williamson County I have identified actually represent a significant undercount. I think the number of local USCT could easily be as much as double that or even triple. The reason for the undercount has to do with the lack of indexed and digitized military service records for these men, incomplete enlistment records, and other issues that make it hard to track and identify the birthplace and residence of these soldiers.

Further, it is important to remember in thinking about the statue and the men it represents, in addition to sending USCT from Williamson County, they were also active in and around our community throughout the War.

For example, in mid-August 1863 more than 60 African American men were enlisted into Company A of the 13th US Colored Infantry right in Franklin - perhaps inside the old Williamson County Court House that sits on the Square - right where the statue will be installed. Later that October 1863, recruiters again were enlisting Black men into US Colored troop regiments in Franklin.

In March 1864, Moscow Carter of the Carter House wrote a letter in which he said a company of USCT was garrisoned in Franklin and he expected a regiment to be sent here. He was probably referring to the 17th US Colored Infantry. On March 21, 1864, 19-year-old Samuel Cox - who was born in Williamson County - enlisted in Franklin in Company C of the 17th US Colored Infantry.



Company Descriptive Card
Samuel Cox
17th US Colored Infantry



Peter Bruner
12th US Colored Heavy Artillery

Later that summer, a portion of the 12th US Colored Heavy Artillery was sent here to guard cattle. Pvt. Peter Bruner described in his memoir how,


Then we started on our journey from Bowling Green to Nashville, Tennessee, to guard a thousand head of cattle. Everything went well with us until we arrived at Franklin, Tennessee, except it rained on us every day. After we had passed into Franklin the next night we went into camp, everything began to go wrong. The food gave out and the rebels fired in on us. The rebels had three men to our one but they did not get any of our men or cattle. All of this occurred after night. We managed the next day to go to the mill to get some flour and when we came back we made it up with water and put it on a board and held it up before the fire to bake it. We did not have any salt nor any shortening nor anything. That evening we found a hog that had five little pigs just about three days old and cleaned them and made soup of them. About that time that the soup was done the rebels fired in on us and made us go and forget all about our pig soup. So after this we did not have any more trouble until we reached Nashville with all of our cattle safe.

Most significantly, following the Battle of Nashville, probably hundreds of local men were serving with the 12th US Colored Infantry, the13th US Colored Infantry, the 14th US Colored Infantry, the 16th US Colored Infantry, the 17th US Colored Infantry, the 44th US Colored Infantry, and the 2nd US Colored Light Artillery, Battery A. Their contributions were significant to winning the Battle and bringing about the end of major fighting in the Western Theatre. You can learn more about the contributions of Williamson County's USCT in the Battle of Nashville in this blog post. The next day, these men hounded the defeated and retreating Confederate Army of Tennessee right through Williamson County and Franklin. A few USCT, including Franklin native Sgt. Major Andrew Ewing, was left sick in a hospital here.

As they came through town on their way to Murfreesboro to board trains, these local men - who were returning as triumphant soldiers, no longer slaves, had this remarkable encounter with their commander General Thomas:




Following the War, US soldiers discovered the remains of two soldiers from Company K of the 17th US Colored Infantry who were "Found in Vicinity of Squire Carter's on Battlegrounds." These men were later buried in the Stones River National Cemetery. They likely died during Hood's Retreat.

Even long after the surrender, US Colored Troops were kept on active duty in this area as peacekeeping troops, security forces and burial details. On February 4th, 1866, two brothers of the 17th US Colored Infantry, Co E were on furlough from Nashville. They were traveling on foot to Triune to visit their parents who were living near there. They were attacked by a civilian and one of the brothers, Pvt.Henry Moon was shot and killed.

Pvt. John Dubuisson served in the 100th US Colored Infantry. In my blog post about him, I described how he married his wife Bettie here in early 1867. He died in July 1909 and is buried in the historic Toussaint L'Ouverture Cemetry in Franklin.





Pvt. Freeman Thomas was enslaved just west of downtown Franklin. He was shot in the leg during the Battle of Nashville, raised a successful family in Franklin following the War and owned a house on Franklin Road that still stands. You can read an interview with him in my blog post here. He died on his 91st birthday and is also buried in the Toussaint L'Ouverture Cemetery.




Private Granville Scales was enslaved in the College Grove area of Williamson County with his parents before the War. He enlisted in the 44th US Colored Infantry. He was taken Prisoner of War two times and escaped both times. The second time he was shot in the shoulder so badly that he had to have his arm amputated. In my blog post, I describe how he declined a medical discharge and stayed on active duty, becoming his regiment's principal musician. Following the War, he moved his family to Kansas and then Oklahoma where he built a grocery store and was a leading member of the community.


Felix Battle was born in Williamson County and was just 13 years old when he enlisted in the 13th US Colored Infantry. He served as a drummer boy during the intense Battle of Nashville and after the War raised a large family in Louisiana. He was a very successful farmer and sent his children to school in Nashville.


These are just a few examples of the connections that USCT had in and around Franklin and Williamson County during and after the Civil War. It is long past time to honor and remember them. We have lost their stories and now we can bring their legacies home. I am so grateful to everyone who is making this a reality through their support of the statue.

If you would like to learn more about these men, please subscribe to my blog and follow Slaves to Soldiers on Facebook.

Some additional local USCT Stories can be found here: